Hi there. I still may need to go through the following details and make some changes to the system mechanics based on suggestions from previous posts. I've been doing some illustrating though (not very good) and thought it might be a good opportunity to post some chargen material.
Step One: Race
Spellwoven uses five core races. These are the 'typical' races of high fantasy games: Human, Elf, Dwarf, Halfling and Half-Orc. Humans are called 'Men' in Spellwoven to remain in theme with a Tolkienesque style. Naturally, you can pick a Character of either sex, but sex has no effect on Character attributes or abilities. Each race has a number of sub-races, which you may also have to choose from (your Gamesmaster may prefer to run the races as straight 'vanilla' flavoured cultures). Sub-races have some minor effects on your Character's skills and abilities, but will primarily be important in a social context during game-play.
Later on, a number of optional races are also provided in this book, but keep in mind that these are available strictly at the Gamesmaster's discretion. The idea behind providing a number of optional races was to provide some examples of how folkloric entities can be fleshed out into Tolkienesque races in a way that is similar to how Tolkien himself turned folkloric elfs into the Elves of his imaginary world. It is not intended to be the case that all optional races are available in a given game--this would create a strange and implausible sort of soup of peoples and a very crowded fantasy land.
The key races are:
Elf: Ageless, remote, beautiful and often arrogant. The Elven peoples are powerful and wondrous but also incapable of understanding or embracing change (+2 Lore, +1 Willpower). Magic: All Elves can use magic. Elves that are not Bards or Loremasters can cast Lesser Spells. Elven Bards can cast Lesser and Greater spells. Elven Loremasters get a +2 bonus to Power. All Elves have the Talent Unfearing of Ghosts.
Descended Power: Some among the old powers of the world have taken physical form, typically in the shape of human, elf or dwarf. Descended Powers cannot be killed per se, but their physical body can be destroyed and when this is done the power is reduced to a spirit on the wind, usually--though not always--incapable of returning to a shape of flesh. Descended Powers either do not age or age only very slowly. In physical form they suffer from the physical limitations, weaknesses and desires of mortal creatures, though possess inherent magic that may exceed that of even an Elven master. Magic: All Descended Powers can use magic. Descended Powers that are not Bards or Loremasters can cast Lesser Spells. Bards can cast Lesser and Greater spells. Loremasters get a +3 bonus to Power (add +2 to one skill of choice and +1 to three other Skills). Descended Powers are rare and have become fewer over the centuries as they cannot produce offspring. Your Gamesmaster may choose to limit or forbid Descended Powers are player characters. Check before you pick this as a race.
Dwarf: Long-lived, crafty and wealthy in lore. In ages past Dwerrow occupied magnificent halls and strongholds in the mountains of the earth, but wars with dragons and goblins have scattered most of this people, so that now most Dwerrow live among Men or Halflings (+2 Fighting, +1 Vigilance).
Halfling: Half the height or less of a human, these are a pastoral, unworldly but often strangely lucky and sturdy folk (+2 Quickness, +1 Subterfuge). All Halflings have the Talent Serendipity.
Half-Orc: The half-blood spawn of men and goblins, half-orcs tend towards greyish skin, yellowish catlike eyes and rank black hair. They are not necessarily evil nor in the sway of darkness, but have a reputation for deceit, cunning and violence (+2 Fighting, +1 Subterfuge).
Men: The human-folk, fiery of will, short-lived, bold and adventurous. The mortality of humans gives them their most powerful gift, a will to make of their short lives something worthy and lasting (+2 Worldliness, +1 Fighting).
Of Dwerrow and Men
I've chosen to use the older English plural Dwerrow instead of Dwarves in this text. The word has fallen out of use, but fantasy roleplaying enthusiasts are used to dealing with strange words and it seems to me that it's about time that Dwerrow was reinstated. English only has a few odd plurals left, teeth and tooth, sheep and sheep, and it seems a pity to let a nice word like Dwerrow go completely into oblivion. I've also used the decidedly Tolkienesque and old-fashioned (and let's face it, sexist) Man instead of Human to describe the human peoples. I've never liked using Man in Roleplaying games to describe humans, but after thinking this over for a while, I decided that being true to the stuffy and old-scholarly style of a Tolkienesque world required this old-fashioned word.
Men
Harrowmen: A superstitious, huge-boned, iron-wielding tribe of men who live in hill forts in remote uphill lands. Some will tell you that there is more than a little goblin and troll blood in the veins of the Harrowmen. This people live in a land of mists, barrows and standing stones, and have learnt a little about the magic of shadows from their shadowy lands (+1 Fortitude).
Marchvelders: A tribe of distant descendants of Nordingmen and Valemen who have taken to a semi-nomadic life on the vast folds and plains where the grass is like a silken sea. The Marchvelders are wonderful horse-riders and breeders (+1 Sport).
Nordingmen: Brash, fiery men of the snowy bays, rocky peaks and twilight lands of the north (+1 Fighting).
Seahavenlords: Fishing, sailing and sometimes pirating along the coasts, the Seahavenlords are a copper-skinned folk who have made their home among the islands and archipelagos of the great seas (+1 Wayfaring).
Southron: The Southron are descendants of a people who travelled north, long ago, bringing with them notions of civilization and grace that were unknown among the ancient tribes of the north. The Southron are dark-skinned, some having an almost blue-black tone to their skin. Their knights are considered unparalleled warrior-poets, lords of grace and the sword (+1 Lore).
Valemen: Descendants of Nordingmen who long ago travelled south and settled in the hills, valleys and fields of gentler, warmer lands. Valemen live a largely pastoral life in their green hills and along the rivers and lake shores of their lands (+1 Charm)
Witchlanders: A pale skinned, fair haired race of men who live in a barren waste and place of harsh rocks. The Witchlanders are well known for their mastery of dark arts, and their lords are sorcerers of bleak renown (+1 Willpower).
Woodlanders: A race of men who live in and around the borderlands of the great forests of the land. Woodlanders have had many dealings with Elves and some Elven blood runs in the veins of certain Woodlander families (+1 Ranging).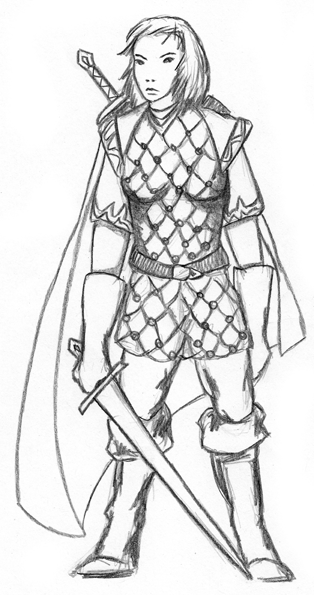 Halfings
Wildwood Halflings: Considered with more than a little suspicion by their fellows, the Wildwood Halflings live along the borders of forests and hills, hunting, fishing and farming a little around the edges of dangerous wilds (+1 Evade).
Underhill Halflings: The more traditional of the Halfling folk, Underhill Halflings live in loose communities of burrows, nicely decorated and always well furnished with food, comforts and life's little luxuries (+1 Charm).
Townfellow Halflings: The descendants of Halflings who have taken up a life more like that of their neighbouring Men. Townfellows live in small villages and towns, often in and among their taller brethren (+1 Worldliness).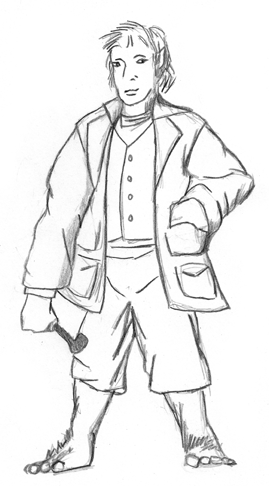 Descended Power
The old powers take many and diverse forms. As such, they do not have sub-races per se and do not gain any form of sub-race bonus.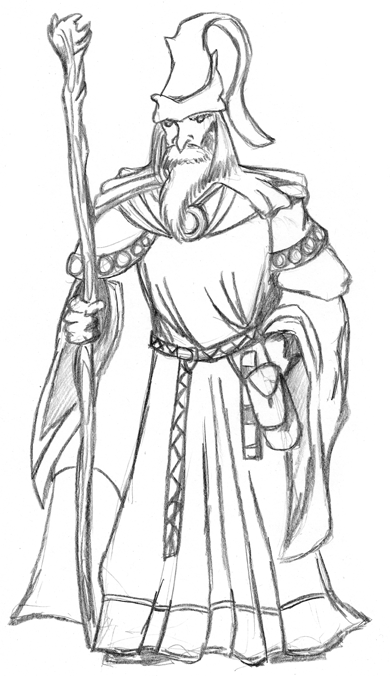 Dwerrow
Scrawn Dwerrow: A lost and sundered tribe of Dwerrow who live in remote forests and wilds, eking out a living, often in small family groups, making their homes in forest caves or small huts (+1 Ranging).
Iron Dwerrow: Called also Black Dwerrow. Living in hill-forts on murky moors and hill-country, the Iron Dwerrow are a remnant of the older Dwarf cultures, now largely supplanted by Hill and Mountain Dwerrow who have had more contact with Men and through that contact have become more 'civilized' in their ways. Iron Dwerrow work mostly with copper, bronze and iron and are well known for tattooing their skin with midnight-blue patterns (+1 Fortitude).
Hill Dwerrow: Called also Brown Dwerrow. Many Dwerrow long since left behind their strongholds in the mountains and now travel and work in the lands of men, sometimes wandering as traders from town to town, sometimes living as a community alongside Men. Their skill is chiefly in steel, tin and alloys of metals. (+1 Worldliness).
Mountain Dwerrow: Called also White Dwerrow. Among the clans and tribes of Dwerrow who were cast out of their strongholds during the ancient wars with dragons and goblins were some that wandered, found new homes and dug deep into them, making vast new mansions beneath the earth. The skill of the Mountain Dwerrow lies chiefly in stonemasonry, gold and silversmithing, jewel-cutting and the working of dwarf-silver (+1 Craft).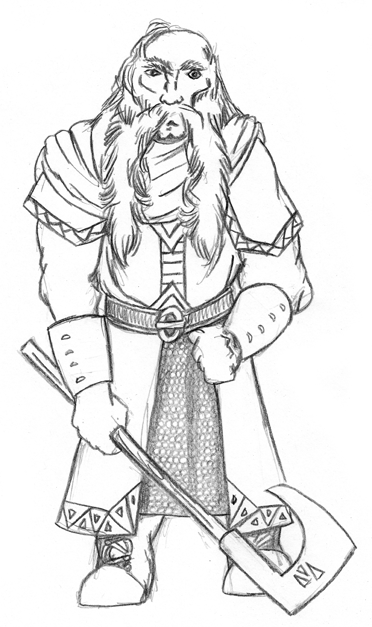 Elves
High Elves: Remote, poetic, eternal and changeless to the point of arrogance, the High Elves consider themselves the greatest of the peoples of the world, and those among Elves who have kept closest to the ancient paths set for them (+1 Lore).
Grey Elves: Those who love the sea, the shore, the foam of the waves and the ocean under starlight. The Grey Elves are navigators, traders and sea-wanderers above and beyond the skill of all other peoples of the world (+1 Wayfaring).
Sylvan Elves: The wilder cousins of the Elven peoples who live in hills, woods and plains. Sylvan Elves are no less civilized than their cousins, but are lustier, more loving of good food and wine, fierier in their emotions and less formal in their ways (+1 Ranging).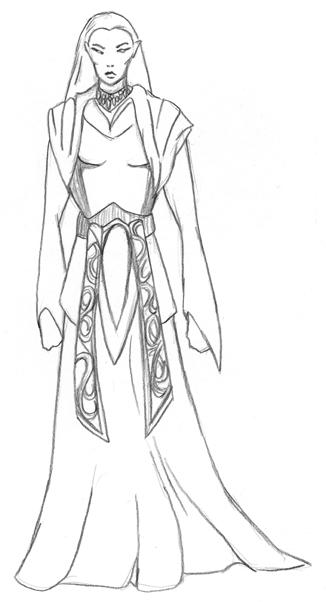 Half-Orcs
Goblin-Men: Smaller, scrawnier and sharper of features than other half-orcs, goblin-men have a heritage of mixed cave-goblin and human ilk. Goblin-Men are too bent and bow-legged to pass for human, and when living in and among humans, Goblin-Men generally have to cowl themselves under cloak and hood (+1 Evade).
Man-Orc: The issue of orcs of war and men. Man-Orcs are taller and straighter of back than orcs, but have an uncanny, almost feline facial structure that makes them only occasionally able to pass for men (+1 Fighting).
Troll-Blood: Not actually a half-troll, but those creatures whose goblin antecedents have mixed with trolls as well as men. Troll-Bloods are often huge, for a human, reaching seven, sometimes eight foot in height with great brawn and power of stature. They suffer a little from the dull wit of trolls, though not so much as to make them subhuman in intellect (+2 Fighting, +1 Fortitude, -1 Lore, -1 Wit).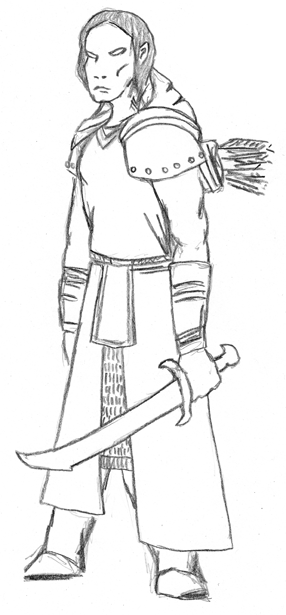 Languages
Common: Known to all races. Used by Halflings and most Men as their cradle-tongue.
Dwarf: Secret tongue of dwarfs and known only to dwarfs.
Elf: High-Elf, Grey-Elf and Sylvan: Each elf kind has their own language and speak that tongue as well as High-Elven.
Orcish: Known to Half-Orcs.
Descended Powers: Gain two languages in addition to Common.
Optional Player Races
A part of the idea that gave rise to Spellwoven was to create a game that had its basic framework a Tolkienesque setting, but to which could be added other setting ideas in a modular way. Most roleplaying games work in this way to some degree, and Spellwoven certainly isn't unique in this respect. However, the object was to add modular parts that fitted with an overall Tolkienesque theme--this meant taking names and ideas from English folklore and trying to retain the feeling that the stories being told could be part of the forgotten legends of England. To that end, the following are some optional Player Races. These, it should be emphasized are strictly optional. They are included in the setting only at the Gamesmaster's discretion.
Dobbe: Citified Hobbe, Dobbes live among men, sometimes in communities of their own, sometimes mingled among the houses of men. They are distant relatives of Halflings and Dwerrow, about the same height, but more given to town-life, trading and crafting (+2 Craft, +1 Worldliness). Classes: Crafter, Folk-Hero, Rogue, Sneakthief or Warden.
Barn Dobbe: +1 Craft
Grey Dobbe: +1 Worldliness
Field Dobbe: +1 Ranging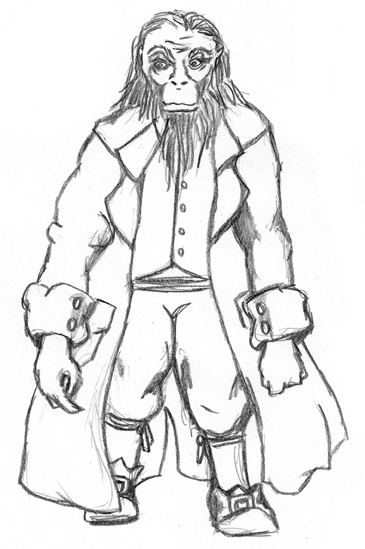 Fay: Creatures of romance and enchantment. Born not in the world, but before it, Fay do not love the world as do the Elves and Dwerrow and Men who are born a part of it. Fay were in the dawn before time, attendants of certain of the Great Powers. They are not Descended Powers per se, have taken a form that is unique and can reproduce with other people, but only rarely among themselves--Half-Fay children are far more common than full Fay. Fay have the appearance of strikingly tall, beautiful humans, and might be mistaken for ancient sorcerers, witches or lords of men by the ignorant. (+2 Lore, +1 Charm). Magic: All Fay can use magic. Fay that are not Bards or Loremasters can cast Lesser Spells. Fay Bards can cast Lesser and Greater spells. Fay Loremasters get a +2 bonus to Power. The cost of casting Goetia is reduced by 1 point for all Fay. Classes: All. Half-Fay: The offspring of Fay and Humans parents. Half-Fay have a lifespan twice that of humans, an unnatural beauty and skill for wit, but none of the magic of the Fay (Charm +2, Wit +1). Classes: All.
Twilight Fay: +1 Lore
Fulgent Fay: +1 Charm
Red Fay: +1 Fighting
Twilight Half-Fay: +1 Lore
Fulgent Half-Fay: +1 Charm
Red Half-Fay: +1 Fighting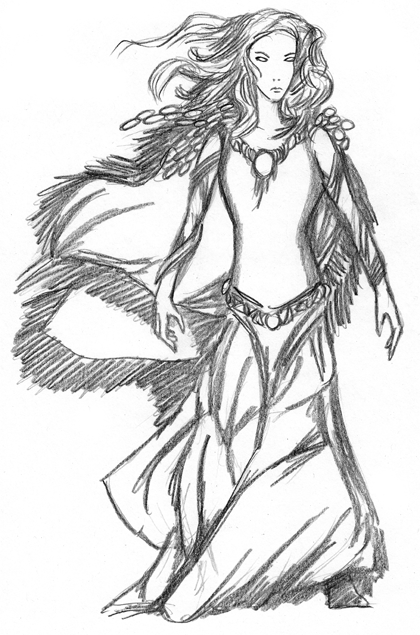 Ganfir: Although homely, friendly creatures, Ganfir have a unearthly appearance that often causes fright. These stout relatives of Dwerrow are covered in thick hair and have glistening black eyes and carry an inherently frightening air about them. Often solitary, living in loose communities of shepherds in the high hills, Ganfir are avoided and feared by most folk, especially Men, who take them for an evil thing, which they are not (Ranging +3, Subterfuge +2, Fortitude +1). Classes: Armiger, Crafter, Folk-Hero, Huntsman, Rogue, Sneakthief or Warden.
Highland Ganfir: +1 Vigilance
Moor Ganfir: +1 Ranging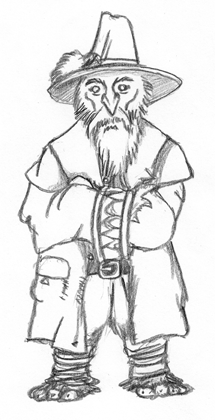 Gawk: Awkward creatures. Given to painted magic. Gawks are thin, gangly creatures of the mountains and mists. They live in secluded settlements high in the clouds, have dead white skin and red hair. They are given to working magic through painting crude runes and magical sigils onto skin, rock or wood. Gawk Bards or Loremasters can use the Mode 'Painted Magic'. Painted Magic moves a spell to the end of a round and reduces the Cost by 4 (Craft +2, Ranging +1). Classes: Bard, Champion, Crafter, Folk-Hero, Guardian, Huntsman, Loremaster, or Warden.
Scavenger Gawk: +1 Crafting
Troublesome Gawk: +1 Thievery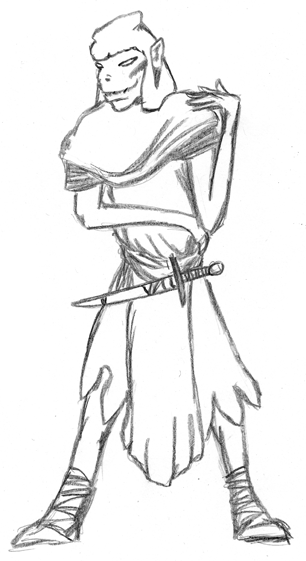 Grig: Merry creatures who are skilled with dancing magic. Grig are goblin-like creatures, vagrants and wanderers. They travel in carnival processions from town to town as tinkers and whitesmiths, entertainers and sometimes also thieves. Grig, when dancing together, can work a sort of communal Goetia magic that can enthral and entrap onlookers. Elves and Fay are immune to this magic, but all other people have to make a Test of Willpower+Mind to resist the urge to join in dancing with Grigs. If a person dances all night with Grig he or she falls under the Grig's power and will be compelled to do as they are commanded. Grig have an unpleasant reputation for this reason, and although a solitary Grig cannot entrap anyone with dance, they are mistrusted. All Grig have the Talent Silver Tongue (Sport +2, Wit +1). Classes: Bard, Champion, Crafter, Rogue or Sneakthief.
Wood Grig: +1 Ranging
Merry Grig: +1 Wit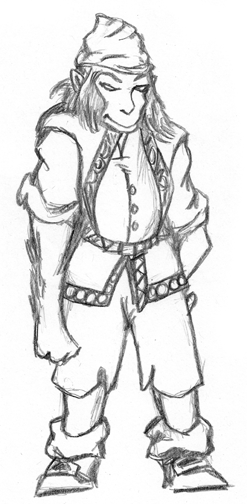 Hobbady-Lanthorn: Night and swamp-dwelling hobbes. Sometimes called simply Hobbady, these folk are pale of skin, quiet and secretive. They can see perfectly under stars and moon and are skilled at moving around treacherous bogs. No Hobbady will ever drown or become lost in a swamp. All Hobady-Lanthorn are possessed of a small magic that allows them to summon a ghostly were-light by concentration of will (Subterfuge +2, Vigilance +1). Classes: Champion, Crafter, Folk-Hero, Huntsman, Rogue or Sneakthief.
Hobbady o' Moors: +1 Vigilance
Hobbady o' Fens: +1 Fortitude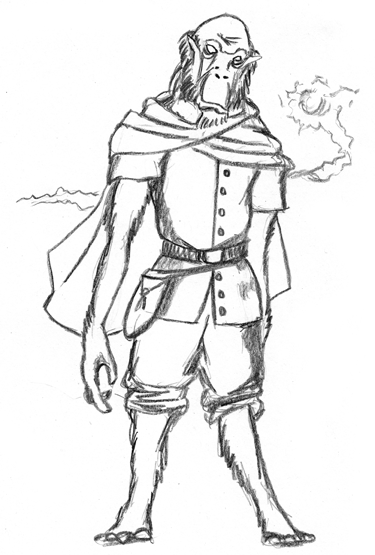 Hobbe o' the Hurst (woods): Secretive woodland hobbes. The Hobbe of the Hurst are woodland-living, wild relatives of Halflings. They are more given to secrecy and avoiding strangers, and are adept at vanishing at will (Ranging +2, Vigilance +1). All Hobbe of the Hurst have the Talent Wild Stealth. Classes: Champion, Crafter, Folk-Hero, Huntsman, Rogue Sneakthief or Warden.
Gloaming Hobbe: +1 Ranging
Wildwood Hobbe: +1 Archery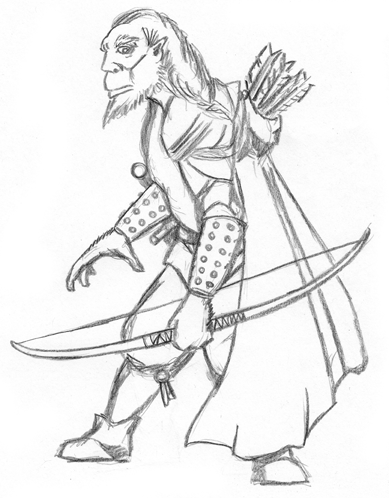 Ouphe: Troll-sized friendly giants, given to hard work and fellowship. Ouphes are simple creatures and are limited to Mind 2 (Fortitude +4, Sport +1, Fighting +1). Classes: Armiger, Folk-Hero or Guardian.
Town Ouphe: +1 Worldliness
Country Ouphe: +1 Ranging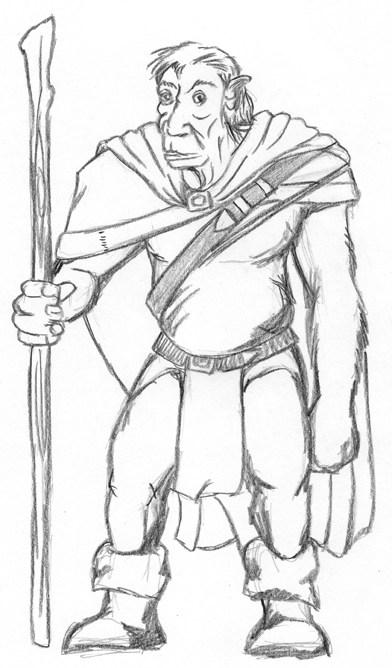 Portune: A dying folk, resolutely struggling against encroachment into their lands. Portune are distant relatives of dwerrow, though are more given to love of the open woodlands and farms, and are typically thinner and wirier of frame. Long ago, Portune held vast kingdoms in the lowlands, but invasions by Men over the centuries have pushed them farther and farther into inhospitable lands. Portune now live in remote moors and scattered kingdoms. They have become an iron-willed people, unwilling to give up even a single inch more of their land without bitter fighting. All Portune possess a talent for the language of birds and can understand (but not speak) this tongue (Fighting +2, Vigilance +1). Classes: Armiger, Bard, Champion, Crafter, Folk-Hero, Guardian, Huntsman, Rogue Sneakthief or Warden.
Highland Portune: +1 Vigilance
Bleak Portune: +1 Archery
Fens Portune: +1 Subterfuge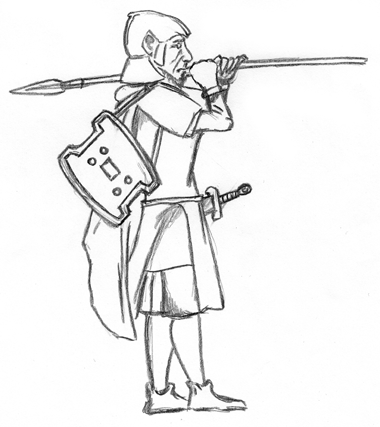 Puck: Tricksters and illusionists of excellence. Puck are the only creatures that can cast illusions that trick elves. Puck are partly hairy, goblin-like creatures, gangly and thin, with wide grinning mouths, elfin ears and glittering playful eyes. They have a bad reputation as thieves and vagabonds, but are not as a rule evil. All Puck can cast Lesser Goetia spells. Puck Bards can cast Lesser and Greater Goetia (but are restricted to Lesser Spells of Magia). Puck Loremasters get a +2 bonus to Power (Wit +2, Charm +1). Classes: Bard, Loremaster, Rogue or Sneakthief.
Hued Puck: +1 Charm
Silver Puck: +1 Lore
Shadow Puck: +1 Subterfuge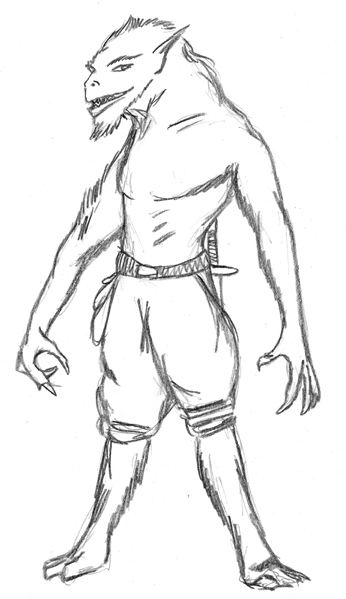 Stormkarl: Creatures of the rivers and lakes. Stormkarl are perhaps distant kindred of elves--they have an elfin look about them, but are shorter, nearer the height of a dwarf and are for this reason sometimes called Elflings. Their skin is pale and their hair so dark it almost has a shade of kelp-green to it. Stormkarls have a beautiful voice for song and a great talent for swimming and can hold their breath for up to ten minutes. Their villages are often built out over rivers and lakes and their boat-crafters are considered the finest that have ever lived. A Stormkarl Loremaster who takes the Theme Water and Rains gains +2 to Willpower (Charm +2, Sport +1). Classes: All.
River Stormkarl: +1 Fortitude
Lake Stormkarl: +1 Lore