Pay per click advertising, web hosting and banner ads
Someone recently asked me if I had any suggestions for RPG authors who were ready to launch their product. Since I think everyone needs their own website, I wrote this article to give budding RPG enthusiasts some tips on creating their own online marketing machine through the magic of pay per click advertising, web hosting and banner ads.
You gotta have a website!
If you're going to succeed in marketing your product online, you'll need a website. Nothing fancy at first, maybe just a few pages describing who you are, a little about your product and where to buy. Sites that have been around a long time have more impact on marketing tools like search engines, so register a domain name, get some web hosting or a dedicated server, and build your site as soon as possible. Here are some links I used when building 1km1kt:
Web hosting:

When I first built 1KM1KT, I knew I was going to need a webhost. I spent a lot of time reading reviews and trolling the webmaster forums for a good deal and eventually found what I was looking for with Lunarpages Web Hosting. Lunarpages offers pretty much everything you need to start a website with plenty of room to grow when you're ready. They had lots of storgae space, bandwidth, and the tech support is really good. They also came with lots of extras like php, mysql databases, add-on domains, unlimited e-mail accounts and the most intuitive control panel I've come across to date.
Payment:



Although our website is free to the public, we occassionally have to make or receive payment. Our preferred method is the Paypal Business account which is free to open and allows us to make payments to online merchants as well as receive them from other Paypal members. The Paypal service also allows us to accept straight credit card payments when the need arises.
Domain name registration: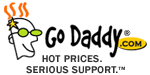 Since you'll have to have a domain name (like ours – 1km1kt.net) check out GoDaddy. Their prices are reasonable and you'll have full control over every aspect of the domain. I like GoDaddy because they've been a pioneer in the industry and aren't a small time domain registration reseller like you'll find everywhere else.
Site design and maintenance:


Random Development is a group of freelance webdesigners that can help with site design, maintenance, management, and programming. They operate their own webserververs if you want them to host your site and are a consistent source of good advice for us.
Driving the traffic
There are two primary ways I've found to drive traffic to your website – pay per click advertising and banner ads. With pay per click and banner ads it's just a matter of shelling out the bucks to bring traffic to your site. Here's what we've found works best:
Google is the first place anyone looking to advertise online should begin. Their system is simple to use, ads are placed immediately, it's affordable for most topics and managing campaigns is simple. With a five dollar down payment, you can be on your way in about 15 minutes. This tool is extremely powerful for bringing customers to your site, so be sure you're only paying for Google placement for people who will buy your products.
Banner ads, on the other hand, are a little less scientific. Purchasing a banner ad on a website can be a crap shoot with the amount of traffic and buyers you'll receive. When hunting for banner advertisers, try typing in keywords and phrases that you think potential buyers would use to find your type of product into your favorite search engine. Start looking into the advertising costs of any website found in the top ten positions for your keyword. These will most likely give you the highest return on your investment.
The big advice to consider with an online advertising campaign is to keep your target audience in mind and to carefully monitor your return on investment verse your advertising costs.